In June of last year I reported on two projects that were in the news. The Bridge to the island and the proposed new roundabout in Nathon. Well not surprisingly the proposal for a bridge has disappeared into the mists of time although no doubt someone in years to come will bring it up again.
The Roundabout however is happening. 
Driving south out of Nathon this is being constructed at the cross roads junction for the Samui Government Hospital and the Provincial Water Works. The traffic lights were removed some weeks ago and traffic flowed very well without them. Recently though they have started to build the roundabout and have started construction on the kerbs around the sides.
 See this YouTube link
 It will be interesting to see how this works out. Section 73 of the Land Traffic Act 1979
states "If there is no traffic signal or sign at a circle (rotary), a driver must give way to vehicles coming from his right".  So vehicles already on the roundabout should have right of way.
 A copy of the Act in English is attached to this email courtesy of www.Thailaws.com
In July I wrote about the new fresh water pipeline and the undersea element of that has been completed.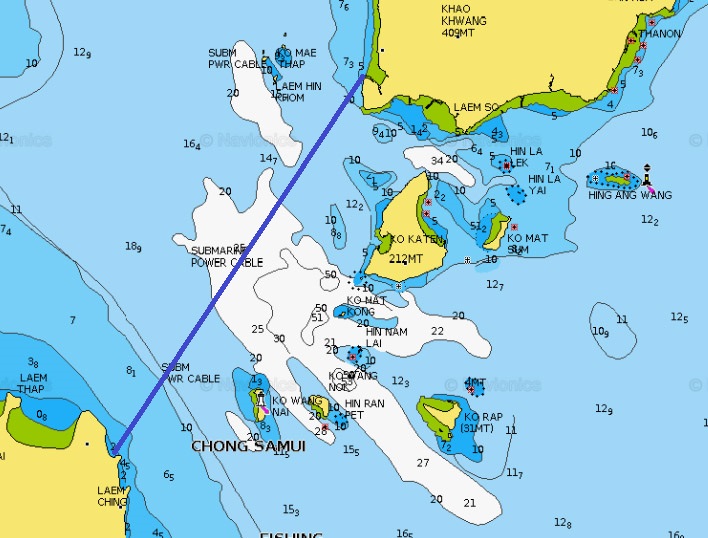 The submarine pipeline construction project between Phun Phin District and Koh Samui, Surat Thani, is Thailand's first submarine pipeline installation that involves large pipes — 800-millimeter PN 10 HDPE pipe — which is 20 kilometers in length and laid on the sea bed. As such, PWA has attached great significance to the process of selecting experts to design and oversee the construction and chosen Wiik & Hoeglund Plc., an experienced expert on underwater pipeline construction, which ultimately led to cooperation with SCG Chemicals as the manufacturer and developer of the innovative EL-Lene™ H112PC black polyethylene compound. This plastic is used in the production of PE112 pipes, which, because they are recognized for its world class standard and superiority to PE100 pipes.
The present phase is the laying of distribution pipework around the island from the entry point in Ban Kao. As you drive round the island you can see this work being carried out with large numbers of pipes waiting to be connected. You can see a link to a YouTube video from SCG and the PWA here.
This months contents:
Update on the new Roundabout in Nathon.
(Traffic Laws)
Update on the undersea water pipeline.
New Listings
Price changes and reductions
Public Holidays
Cruise ships visiting Samui in February
Samui Open Beach Volleyball Tournament to be held Feb 17-18
Colliers International to lead major Thai hotel portfolio sale
Malaysia's luxury market malaise drags on
Corruption law in Thailand to tighten limits,
Wary hoteliers crunch the numbers
New Cruise Ship MARELLA EXPLORER
Skyscanner reveals top destinations for 2018 
Tink Labs touts Handy platform
Koon banks on startups and tourism
Raja Ferry in new push for growth
Boat Lagoon brings in region's biggest shipment of private yachts
BUTTS OUT: SMOKING BAN TO HIT 24 THAI BEACHES
To receive the Newsletter by email each month please subscribe from the link in the side bar on this page.