Managing Director – Harry B Bonning F.R.I.C.S.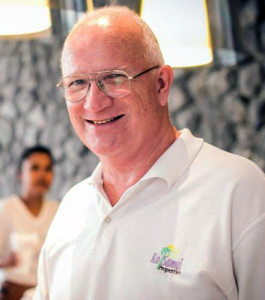 With a background in real estate stretching back over 40 years and having qualified as a Chartered Surveyor in 1974 I can offer a wealth of experience  to anyone considering purchasing a property on Ko Samui.
Since arriving  here on Samui in 2001 I have seen many changes – some for the better and some not so. Infrastructure has not always kept pace with demand but  slowly it is catching up. We were one of only three agencies on the island  in those early days and the expansion of development over the next few  years was phenomenal and our office expanded to nine staff all fully  occupied and our  liveried cars were seen all over the island. Then came  the crash in 2007 and business dried up almost overnight. A number of developments failed and  some of the newer agencies just disappeared.
I take pride in the fact that we survived that period  and even during the turbulent few years since, both worldwide and within Thailand, we have  continued to provide services to long standing Clients, many of whom have been with us since the  early days.
Professional Qualifications and Experience
 Full Name

Harry Baxter Bonning

 Nationality

British

 Qualifications

22nd October 1974

Elected Associate of the Royal Institution of Chartered Surveyors 

18th May 1982

Elected Fellow of the Royal Institution of Chartered Surveyors

Experience in reverse order:

2001 – present

Managing Director of Properties Kohsamui Co Ltd trading as Ko Samui

Properties. One of the few independent real estate agencies on Koh Samui and the only resident Chartered Surveyor on the island. Involved principally in acting as sales agents for residential, resort and commercial real estate as well as land. Valuations for overseas Courts and other Authorities. Property Condition Surveys.

1998 – 2001

General Manager of The Emirates Property Investment Company (EPICO)

the real estate division of the Al Fahim Group in the United Arab Emirates. Responsible for the management of all investment properties throughout the Emirates, but mainly in Abu Dhabi and Dubai. This included five major hotels, a shopping centre and numerous residential apartment buildings and villas.

1994 – 1998

Independent professional consultant advising on real estate investment in the UK and overseas.

1988 – 1994

Senior Real Estate Manager with the Abu Dhabi Investment Authority, based

in Abu Dhabi but responsible for all ADIA investment properties throughout North America.

1980 – 1988

Partner and Management Surveyor with Weatherall Green & Smith GmbH in Frankfurt am Main, Germany. Responsible for the asset management of numerous investment properties owned by institutional investors throughout West Germany. Also responsible for Portfolio valuations.

1970 – 1980

Trainee Chartered Surveyor (1970 – 1974) and subsequently partner with Bonfield Hirst Turnor in Leicester UK. During the ten years was involved in the valuation and sale of residential, commercial and industrial real estate.

1967 – 1970

Assistant Purser with P&O Lines.